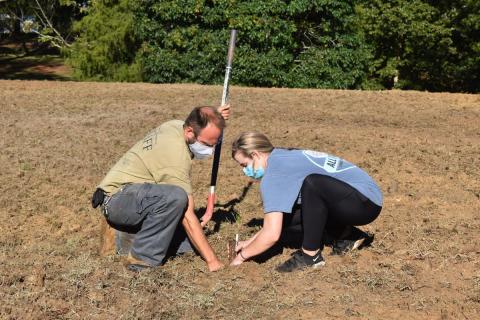 Will black cottonwood poplars, balsam poplars or their hybrids grow and thrive this far south?
That's a question Lockerly Arboretum hopes to help North Dakota State University answer in the coming months and years through a research project that recently put its roots in the ground. Lockerly is one of 18 arboretums and universities across the country participating in the project that will determine where these trees can be grown and later broken down for uses like biofuel. The effort is being funded by the National Science Foundation's plant genome research program.
"It's not just about the trees making it here, but whether or not they are thriving here," said Greg Eilers, Lockerly's assistant director. "Some things will live here that will just stay the same size forever. They're looking for plants that are doing well."
Like many things at Lockerly, this poplar project also has an education component. Middle school students studying life science can visit the grounds on field trips to help measure the poplar trees to help track their growth. 
Jennifer Pollard, Lockerly's executive director, said the arboretum got involved in NDSU's research project thanks to its level 2 accreditation through ArbNet that was obtained in 2017. ArbNet is an accrediting organization for arboretums all around the world, and Pollard shared that Lockerly's participation in the poplar project could see its level increase. Research is one component of reaching that next level along with further plant identification on the grounds among other requirements. Taking part in research also happened to be part of the vision E.J. Grassmann had when he founded Lockerly in 1965.
"That research piece is something we've always struggled with," Pollard said. "We're now finally getting to hit that last piece Mr. Grassmann wanted for Lockerly."
Date:
Tuesday, October 27, 2020