ArbNet created its Arboretum Accreditation Program to establish and share a widely recognized set of industry standards for the purpose of unifying the arboretum community. No other international program of accreditation exists that is specific to arboreta. Any arboretum or public garden with a substantial focus on woody plants may apply. Accreditation is based on self-assessment and documentation of an arboretum's level of achievement of accreditation standards, including planning, governance, number of species, staff or volunteer support, education and public programming, and tree science research and conservation. The entire program is free of charge.
Learn more and apply for accreditation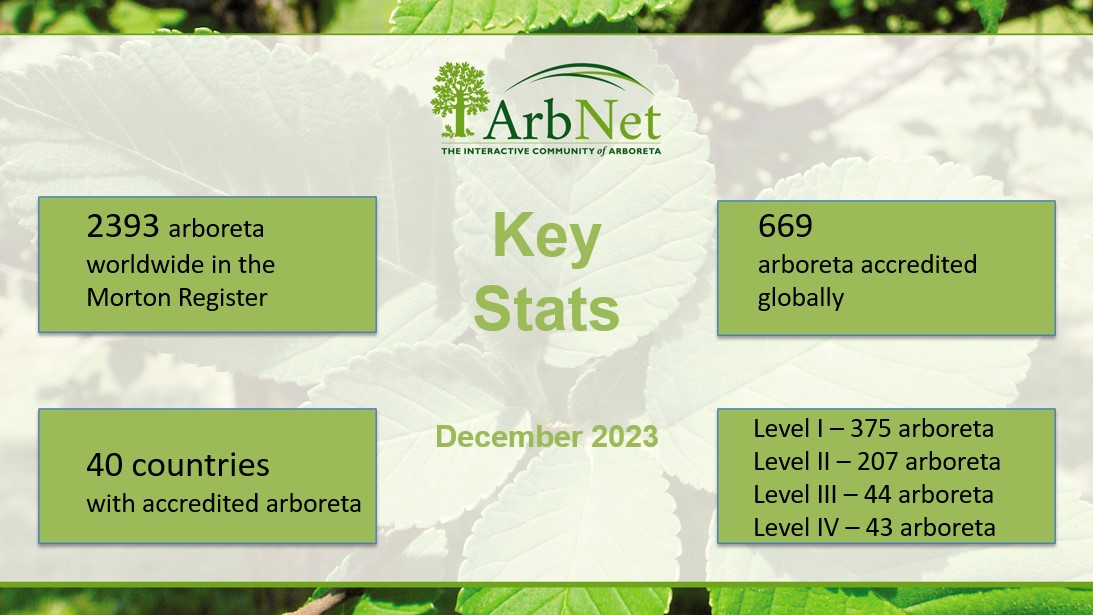 View listing of all accredited arboreta
The ArbNet Arboretum Accreditation Program
Recognizes arboreta at various levels of development, capacity, and professionalism
Fosters professionalism of arboreta worldwide
Enables collaboration in scientific, collections,    
and conservation activities
Advances the planting, study, and conservation of trees.
Benefits of accreditation
Be recognized for achievement of specified levels
of professional practice.
Work toward higher levels of professional
standards once accredited.
Identify other organizations at similar or higher
levels of accreditation to provide comparative
benchmarks and models for further achievement.
Earn distinction in your community, university,
college, or government agency.
Exert leadership and influence by serving as a
model to encourage professional development in other organizations.
Identify opportunities for collaboration with other arboreta for scientific, collections, or conservation activities.
Examples of institutions that may be accredited arboreta
arboreta and botanic gardens
historic properties
college campuses
cemeteries
zoos
city tree collections
corporate campuses
school property
golf course
nature reserves
municipal parks
For specific information on which level to pursue, please visit the levels of accreditation page.
View map of all accredited arboreta